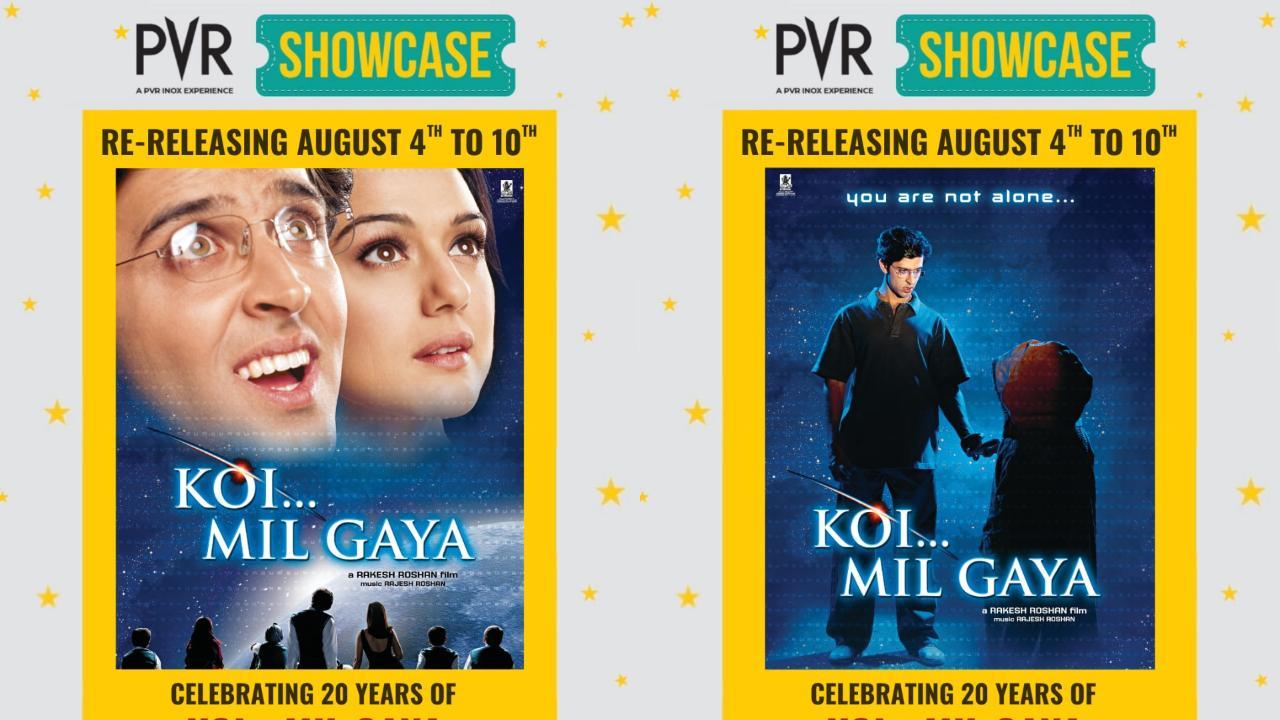 Rakesh Roshan`s 'Koi…Mil Gaya', released in 2003, is India`s first sci-fi film featuring an alien. The sci-fi musical 'Koi…Mil Gaya` and India`s first superhero film franchise, 'Krrish', also stands to be the first multi-genre story franchise that carries forward characters and storylines from its preceding parts. The film and its instalments received rave reviews from the audience and critics alike.
'Koi…Mil Gaya`, starring Hrithik Roshan, Preity Zinta and Rekha, emerged to be one of the most memorable films of the actors. Hrithik Roshan, who played the role of a mentally challenged boy with the mind of a 9-year-old, redefined his acting prowess in the eyes of the audience with his superlative performance as Rohit Mehra.
20 years since its release, 'Koi… Mil Gaya' stands to be high on recall, with the dialogues, songs, characters and scenes still being celebrated in the online world.
Speaking about the impact of 'Koi…Mil Gaya', Rakesh Roshan shares, "As a filmmaker, it feels surreal to learn that your film is being loved even after 20 years. We set out to make `Koi…Mil Gaya` as a children`s film that would be enjoyed by the kids and also entertain their families. It was a risk I was taking as a filmmaker introducing a sci-fi film with an alien, but the audience response was my biggest reward. It was satisfying and strengthened my belief as a filmmaker to keep making films on different genres, storylines and keep experimenting. 20 years later I keep seeing `Koi…Mil Gaya` being spoken about, whether it is social media creators recreating Rohit`s (Hrithik`s character in the film) dialogues or references to Jaadoo every time there is an alleged alien spotting around the world, a sonic boom event being heard from the sky or the various memes on `Om om om` or `Dhoop` across the internet. Knowing that it`s 20 years, and `Koi…Mil Gaya` is still etched in the audience`s mind is a very heartwarming feeling."
Based on the high recall value and popularity of `Koi…Mil Gaya` among the audience over the years, PVR INOX has decided to re-release the film in Indian cities and territories like Mumbai, Pune, Goa, Surat, Ahmedabad, Vadodara, Jamnagar, Aurangabad, Kolkata, Odisha, Bhubaneswar, Indore, Gwalior, Jaipur, Noida & Greater Noida, Ghaziabad, Lucknow, Dehradun, Delhi, Gorakhpur, Gurgaon, Kanpur, Chandigarh, Punjab; Mohali, Jalandhar, Ludhiana, Kochi, Trivandrum, Hyderabad, Chennai, Coimbatore and Bengaluru.
Commenting on the re-release, filmmaker Rakesh Roshan said, "The team at PVR Inox reached out to us to celebrate 20 years of `Koi…Mil Gaya`. I was very happy to know of their plans and we have jointly decided to re-release the film on August 4th across 30 cities in India. The idea is to relive the nostalgia of the film and re-release it in PVR Inox cinemas. We hope the re-release marks to be a family outing with parents taking their kids to cinema halls and introducing the new generation to Jaadoo, while the parents reminisce memories of watching the film 20 years ago."
Directed by Rakesh Roshan, `Koi…Mil Gaya` is produced by Rakesh Roshan`s FilmKraft Production. The film starred Hrithik Roshan, Preity Zinta, Rekha alongside Johnny Lever, Rajat Bedi, Prem Chopra and child artists Hansika Motwani, Anuj Pandit Sharma in pivotal roles.